EVENTI 2014
Interventional Spine Week of the ESNR
November 17-21, 2014 - Naples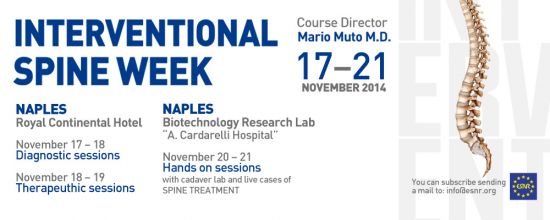 I ANNUNCIO
On behalf the Board of the ESNR, we are glad to announce the Interventional Spine Week (ISW) that will be held in Naples november 17-21, 2014.
ISW is structured in diagnostic - therapeuthic lectures and hands on course in animal lab to practice the anatomical disk and vertebral body approach to manage the most common mini-invasive spine therapy.
The ISW is organized in three parts:
1) diagnostic sessions (1 and ½ day)
2) therapeuthic sessions (1 and ½ day)
3) last 2 days devoted only to hands on lab and live cases.
Each partecipant can decide to subscribe only to diagnostic sessions, to therapeutic sessions or to the entire ISW that is one of the step to get the European Diploma in Spine Intervention Neuroradiology, (EDISINR).
Further information will come on the ESNR website regarding how to get this diploma.
We have decided to separate also the fees for the ISW:
Diagnostic only: 220 / 170 / 230 / 240 (members / junior / institutional / non-member)
Diagnostic + interventional WITHOUT hands-on: 440 / 340 / 460 / 480
Diagnostic + interventional + hands-on: 975 / 925 / 1165 / 1175
(reserved only to 20 partecipants to get EDISINR) VAT included
Registration fees include, coffee break, lunch, certification of attendance, 1 social dinner, didactic materials. Hotel is not included.
ESNR Diploma is a preferential criteria to be admitted to the ISW that is a pre-requisite to reach the EDISINR.
You can subscribe sending a mail to: info@esnr.org
For information segreteria@eventiecongressi.net
We are looking very much forward to welcoming you in Naples!!
Mario Muto MD
Chairman Diagnostic Interventional Neuroradiology Cardarelli Hospital Naples, Italy
Chairman of Spine Committee of the ESNR